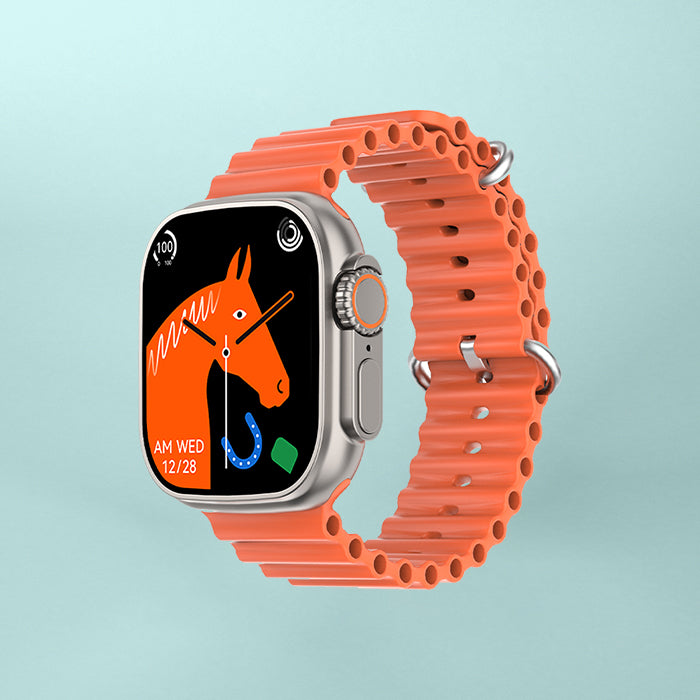 XCESS Pulse Ultra Smart Watch – Your Ultimate Companion to Elevated Performance and Connectivity
---
Dive into a world of innovation and style with the Pulse Ultra Smart Watch by XCESS. Crafted to seamlessly blend cutting-edge technology with sleek aesthetics, this smart watch is designed to empower your active lifestyle while keeping you seamlessly connected.
Waterproof Design (IP68): Engineered to withstand the elements, the Pulse Ultra Smart Watch boasts an impressive IP68 waterproof rating. Whether you're caught in the rain or diving into your favorite water activities, rest assured that your smartwatch is well-protected, allowing you to maintain your active lifestyle without hesitation.
Real Heart Rate Monitoring: Your health takes center stage with the real heart rate monitoring feature. The Pulse Ultra accurately tracks your heart rate in real time, providing valuable insights into your cardiovascular health during workouts and throughout the day.
Multi-Sports Mode: Adaptable to your diverse fitness interests, the multi-sports mode empowers you to choose from a variety of exercise modes. Whether you're a jogger, cyclist, yogi, or into high-intensity interval training, the smartwatch tailors its tracking and metrics to suit your chosen activity.
Bluetooth Call Capability: Stay effortlessly connected while on the move with the Bluetooth call feature. Easily answer or make calls directly from your wrist, minimizing disruptions to your flow and allowing you to maintain focus, whether you're working out or tackling your daily routine.
Apps Notification: Your wrist becomes a command center for your digital life. Receive notifications from your favorite apps, be it messages, emails, social media updates, or more. Stay informed and engaged without constantly reaching for your phone.
GPS Tracking via App: Unleash your adventurous spirit with GPS tracking via the dedicated app. Record your routes, distances, and explore new terrains with confidence, all while monitoring your progress on the crisp and vibrant display of the Pulse Ultra Smart Watch.
Elegantly fusing function and fashion, the Pulse Ultra Smart Watch by XCESS stands as a testament to modern innovation. Whether you're seeking to optimize your fitness routines, streamline your communication, or embrace a more connected lifestyle, this smartwatch offers the tools to enhance every facet of your daily experiences. Elevate your wristwear and embrace the future with the Pulse Ultra Smart Watch.